Moving on! Again, in the New Look change rooms, I am wearing the denim jeggings and an adorable nautical inspired cardigan with little clasp closures.

Next I tried this one but for some reason didn't take photos of it on. Anyways, It's a denim shirt with lace detail on the shoulders. This one I didn't buy, but thought it was really awesome and wanted to share it with you anyways!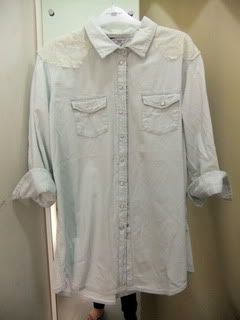 It's longer and comes to about my midthigh - I am 5'5" to give you an idea of how big it is. I am also big in the bust area and it does up with extra space. Also, I had room in the arms too. This piece is from the regular New Look collection and is a size 18 UK.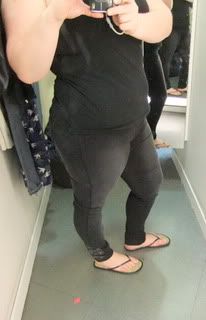 Black Jeggings with a nautical snap detail on the bottom of the leg - these I bought and I cannot wait to wear!!!
The ever popular Inspire Bird Dress from New Look
And that's it from the New Look Haul in terms of clothes... I did cave and buy a pair of sandals but I will share those with you when I take photos of my next outfit! Thanks for looking! Can't wait to hear what you think! If New Look is listening, come to Canada, we need you!