Hi everyone!
I know I am a little late on this post, as so many awesome in focus photos have been popping up all over the place this week from this marvelous defile de mode from Cartel de la Mode, but I wanted to share it with you anyways.  Last Sunday at L'Espace Kiron, here in Paris, the amazing Cartel de la Mode along with Les Dessous d'Aprhodites came together to put on a runway show and sale for plus size women. The day went over really well with two shows, one at noon and the second at four. In between there were several tables including Cosmo Plus doing makeup, nails and of course selling clothes.
I really liked the Spring /Summer collection for Cartel de la Mode - lots of great leggings and dresses. I really love this leopard print tunic above.  I think Cartel may in fact be the ultimate designer of wrap dresses - I was so impressed with all the different styles - including a bathing suit, seen below in the same style.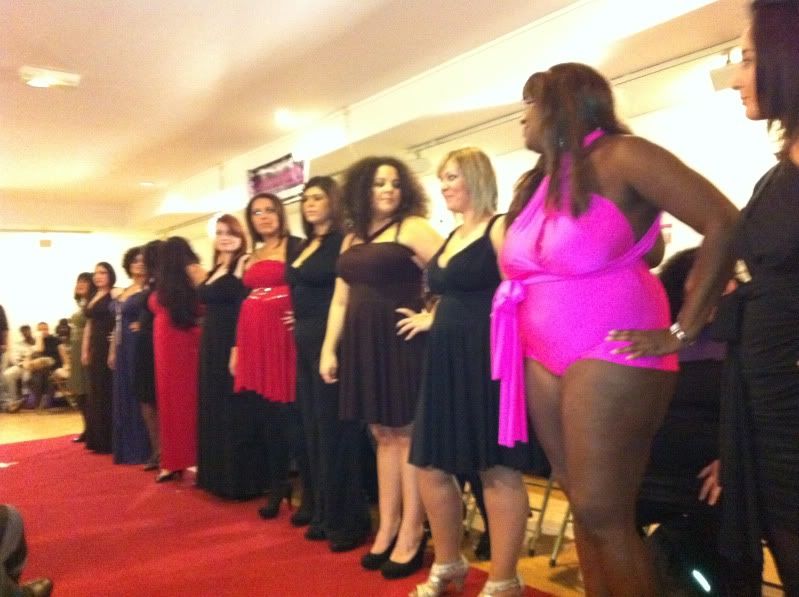 Below is a picture, a little blurry, but in between having my nails done and using my phone as a camera, I couldn't do much better, of Dahpne, who is in the running to win  a trip to the Curvy revolution in Las Vegas in February from Ma Grande Taille. She, as well as all the other fantastic models looked great!
There was also a company there doing body painting, as can be seen on this shirtless gent below. I'm pretty sure everyone, wanted to strut the runway with him - the perfect accessory really! ;)