Hiya!
So I've had the odd message and comments from friends over the past couple of months about what makeup I wear and prefer so I thought I would share with you my favourite things that I use everyday. Most people assume that I don't know wear much makeup because I go for the invisible makeup look but I do wear quite a bit. So I will now present to you my scary just out of the shower face and then give you my routine and thoughts before restoring my image with an after shot. If you have questions or anything about a product don't hesitate to message me or leave a comment. I get all my makeup from Sephora apart from some of my eye shadows specified below.

Scary, I know! I start by putting on an SPF Olay face moisturizer before anything. I have very dry skin so I need all the moisture I can get.
Next on the top of my hand I mix a small dollop of Benefit STAY with Benefit POREfessional and apply it inder my eyes, t-zone, chin and on any blemishes.
Once I have it all blended and my raccoon eyes are gone, I use Bare Escentuals powder, the base colour is light or fairly light, both work for me, although I prefer the fairly light, then the bronze powder to add a little dash of sun, followed by the mineral veil which is a light clear powder that sets everything in place. I use their Kabuki brush because it's soft and blends everything very easily.
What I like best about the Bare Escentuals is that it sits on my skin and holds, and it also doesn't look thick or dry, it really covers up without showing itself.  I purchased the starter kit from Sephora (Colour light) and it really has everything you need to get yourself going with their products.
Once I have my face on, the fun begins. There was a time not too long ago that I wore no makeup and didn't have much interest in it. For whatever reason I gained a huge interest all at once and now have every colour of the rainbow at my disposal to wear. One of my favourite eyeshadows comes from designer Anna Sui,
you can visit her site here
, and I purchased  a dark mauve eyeshadow that is slightly iridescent when I was in New York. ( The Anna Sui boutique in New York is amazing, decorated purple and black with the signature black rose embossed design on everything). I love her eyeshadows because they go on so smooth and blend very easily with other colours. It shows that they are high quality because they don't dry out during the day and stay colourful all day long without reapplication. If you come across them I would highly recommend you try them out.
I wanted to have plenty of colours at my disposal when I first got into makeup so I could experiment, but didn't have the money to shell out on bigger brands. After watching oodles of reviews on youtube of the
Coastal Scents
80 colour palette, I thought I would give it a try. I was actually pleasantly surprised to see that the colours are vibrant, they stay on and look great. I will admit that it is not at all the same blending quality as a shadow like the Anna Sui brand but considering the price (under 25$ US for 80 colours) it's really great to have on hand for days where I want my makeup to really compliment a specific colour in my outfit etc.
I know that mascara is a really personal thing as not one of my friends uses the same one as another but I'll tell you about which one I use anyways. I am a bit of a Benefit addict, so if you are thinking about buying something that you haven't tried before from them, feel free to ask me about it as I have tried almost everything they have out for the moment. I absolutely love their BadGal mascara as it has a giant brush and makes for wide doll eyelashes without clumps. It comes in both a black and a plum colour.
Once I have my eyeshadow on, I do a quick curl of my eyelashes and apply my mascara. I follow it all up with either a colourful Sephora or Biguine lipstick, or simply just a cote of Benefit lip tint and gloss.
(I don't wear much eyeliner as it doesn't tend to stay on my lower lids but I am still searching for the right one for me. To date I have not found one that I am truly in love with but I hope to find one soon. Send me your recommendations!)
And now, without further ado, here is the after. I have used all the products mentioned above and I promise it only took me 10 minutes.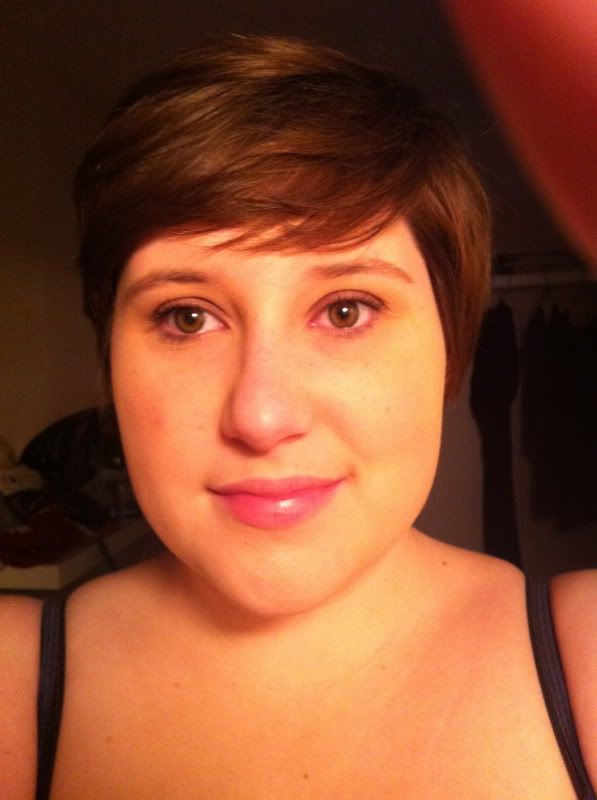 Thanks so much for stopping by :)